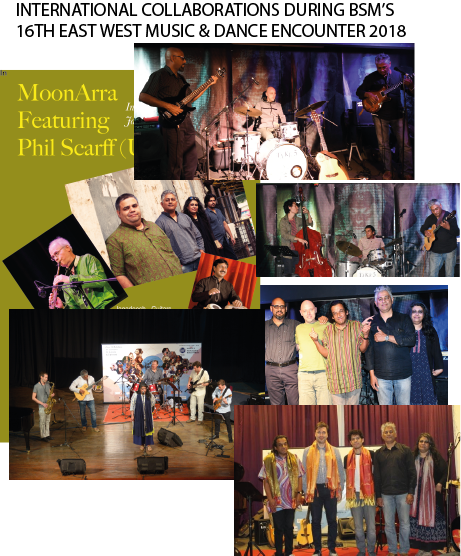 The Spirit of Collaboration
Performing at Zurich University for The Arts, 'Switzerland, 'Music for Change' Concert on May 17.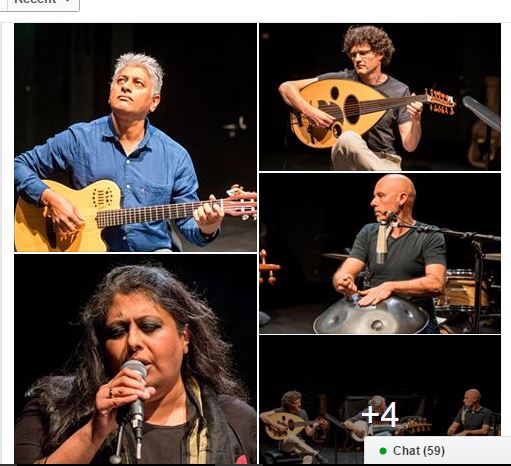 The spirit of collaboration continues to be at the heart of MoonArra: 2017 began with a collaborative performance with US Saxophone virtuoso Phil Scarff in January in Bangalore;
A 4 member delegation (Jagadeesh M.R, Rebecca Colaco, Andy Ramesh, Nandini Sudhir) from the Bangalore School of Music led by Jagadeesh visits Zurich University of the Arts as part of a cultural-educational exchange from May 10-24. Post that, Duo Madhuri and Jagadeesh tour Europe, collaborating with saxophone player Peter Natterer in Vienna May 25-26; performing with Norbert Kaell, pianist of 'Jazzical Trio' & talented percussionist Tamas Siska on May 27 in Budapest, Hungary, at A38 Club and on June 1 with Leszek Wisniowski, jazz flautist at Club Strefa, Krakow, Poland. MoonArra members unite in June to perform at the Indiranagar Sangeeth Sabha for the Triennial World Music Conference-Festival on June 26. Conitinuing in 2018 with collaborations in BSM's 16th edition of the East West Music & Dance Encounters with Gregor Hilbe from Zhdk, Peter Natterer Quartet from Austria, Phil Scarff from US, Yann Phayphet from France and Norbert Kael from Hungary!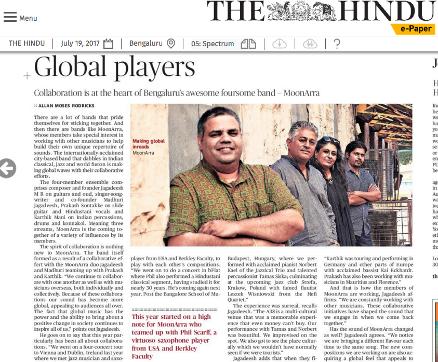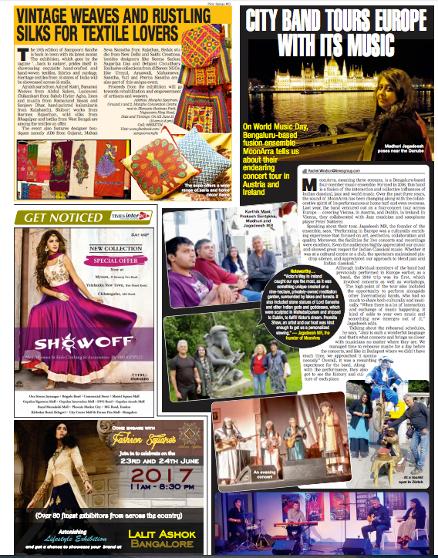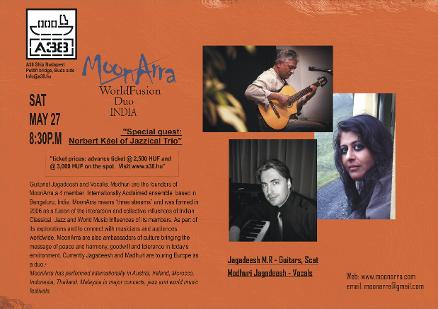 ARTISTIC YOGA
Artistic Yoga Guru Bharat Thakur exhibited his paintings at Gallery Space in Banjara Hills, Hyderabad on Mar 11 2017. The theme of the event was 'Colossal Abstracts'. Jagadeesh M.R. of MoonArra on solo acoustic guitar complemented and showcased the theme through music with a tapestry of harmonic changes starting from flamenco and moving through jazz and a fusion of Latin and Indian classical sounds. Akkineni Nagarjuna, Telugu Film Superstar was the Chief Guest.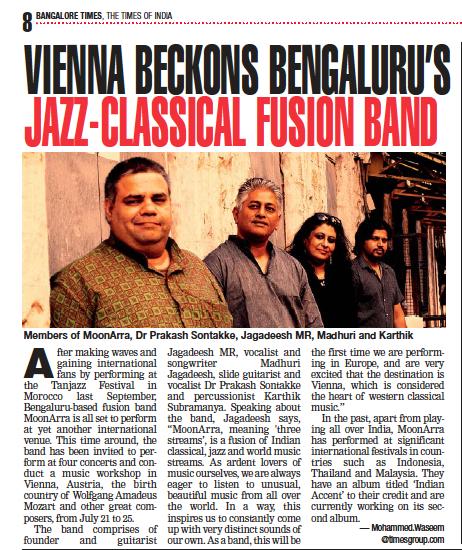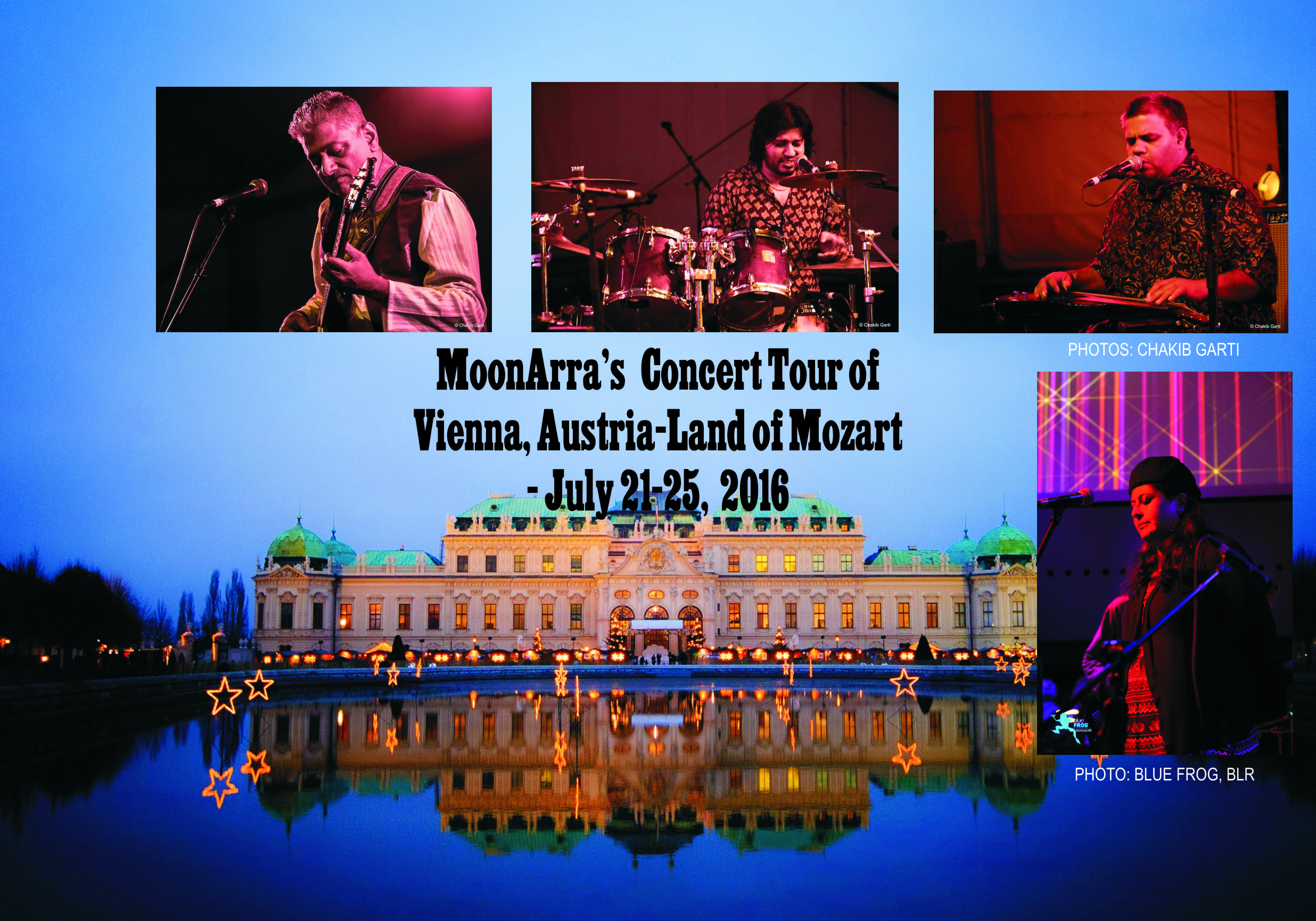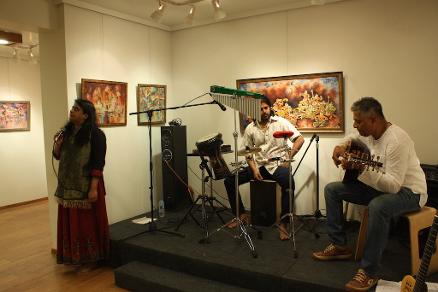 Trio performance at Kynkyny Art Gallery showcasing Krishnappa's retrospective of Traditional Indian Musicians Mar 22 2016. (More pics on Buzz page)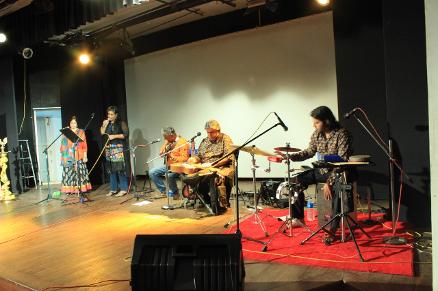 MoonArra performs at the National Gallery of Modern Art for the Inaugural of the 14th East West Music & Dance Encounter of the Bangalore School of Music on Feb 13. (More pics on buzz page)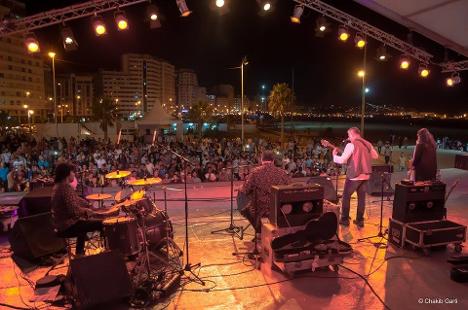 MoonArra performs on Day 1, (above) Sep 9 2015 at BMCI venue, Tanjazz, Tangiers Morocco "Jazz of 5 Continents" Festival and at the finale on Sep 13 at the Italian Palazzo in a collaboration themed as "India Meets Africa".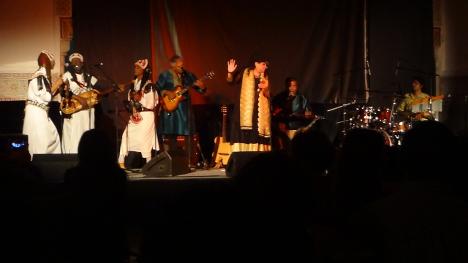 PRESS REPORTS POST TANJAZZ 2016:
.Far from the rhythms of Bollywood, India was worthily represented by the group MoonArra and Arun Ghosh who lives in Britain. Power and spirit characterize the music both traditional and modern of the two bands, which open to other styles from Africa or Andalusia. - http://www.lavieeco.com/news/culture/un-savoureux-tanjazz-35311.html - Sep 2015
...Among the highlights of this final evening, included the long-awaited concert and having met on MoonArra Group (India) and Abdellah El Gourd Maâlem (Morocco) for a successful fusion of classical Indian music and the Gnaoua
http://www.aujourdhui.ma/lifestyle/musique/ca-a-jazze-dans-la-ville-du-detroit-120689#.Vf-Tr2Sqqko. Sep 2015
Tangier - The 16th Tanjazz festival was closed Sunday night in style with a sublime fusion entitled "Africa meets India", which saw the meeting of the Indian group MoonArra with the Moroccan Gnawa Group. http://www.mapexpress.ma/actualite/culture-et-medias/cloture-en-beaute-16eme-edition-tanjazz/. Sep 2015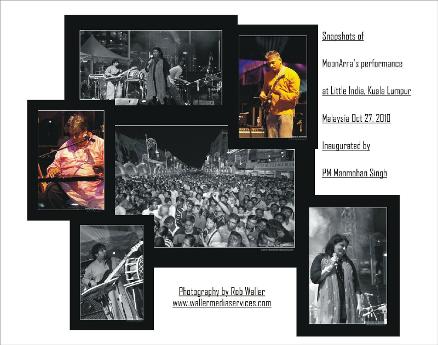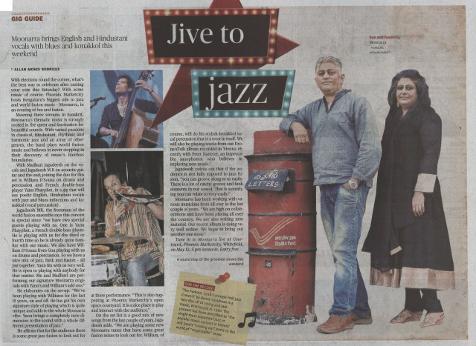 Performing at A38 jazz club, Budapest, Hungary May 27 2017 with Norbert Kael on Piano and Tamas Siska on percussion. and June 1 2017 with Leszek Wisniowski, Club Strefa, Krakow,Poland.
East West Music & Dance Encounter 2017 (BSM) Cameo Collaboration with Artists from Switzerland Aion Quartet and Hefi Jazz Quartet, Poland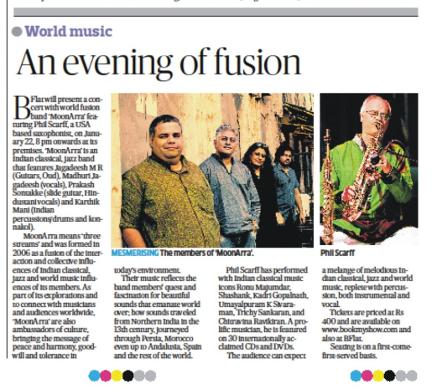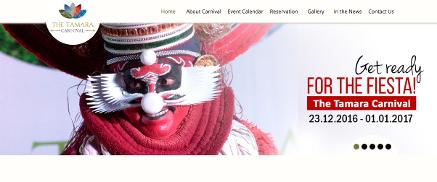 Madhuri Jagadeesh performed a special rendition of the Indian National Anthem at the US National Day hosted by the US Consulate on June 21, 2016, held at the Marriott Hotel attended by special dignitaries and VIPs.
Three Streams
MoonArra means
means "Three Streams.
The lietmotif of all our lives is our quest and fascination for beautiful sounds that emanate world over,
how sounds travelled from Northern
India in the 13th century, journeyed thru Persia, Morocco even up to Andalucian Spain.
Formed in 2006, our collective upbringing in Carnatic and Hindustani classical, the rhythmic and harmonic quality of jazz and a thousand other songs that we've grown up with and meeting with diverse artists, languages and styles, a celebration of the human spirit – it is a journey that has no destination. We are a world fusion band on a mission to discover ourselves through our music and also other artists we meet everywhere
.
Jagadeesh M.R - Guitars, Oud, composer and founder.

Madhuri Jagadeesh - Singer songwriter and co founder

Prakash Sontakke - Slide guitar, Hindustani vocals and award winning songwriter

Karthik Mani (Subramanya) - Percussionist/Drummer- and Konnakol.
William D'Souza - Drummer from Goa
MoonArra's Significant International Festival Performances -
Concerts at Zurich University, Budapest Hungary & Krakow Poland May 10-June4 2017

4 Concert tour of Vienna July 21-24, Austria, 2016

Concert at Dublin, Ireland – July 26 2016

Tanjazz 2015 International "Jazz of 5 Continents Festival" at Tangiers, Morocco Sep 8 to 14 2015.
Java Jazz Festival in Indonesia 2009
Bangkok Jazz Festival 2010
Invited by internationally renowned drummer Lewis Pragasam to perform at the inaugural of Little India by PM Dr. Manmohan Singh in Kuala Lumpur Malaysia in Oct 2010.
Indigo & Blues International jazz festival 2007
International Jazz day Goa in May 2013 and 2014 and Hyderabad 2015
Asiabeat Anthology Launch in KL Malaysia in Dec 2012

Delhi

International Jazz Festival on Mar 17 2012
Madfest in Ooty on April 5th

2012.

Fete De La Musique 3 city tour in India 2010
Bengaluru Habba 2006-2011
Fireflies festival 2011
Currently MoonArra's debut album 'Indian Accent' has been released in India and has been reviewed in the Hindu, Times of India and also by World Music Central based in North Carolina, USA.
After our performance at Bangkok Jazz Festival 2010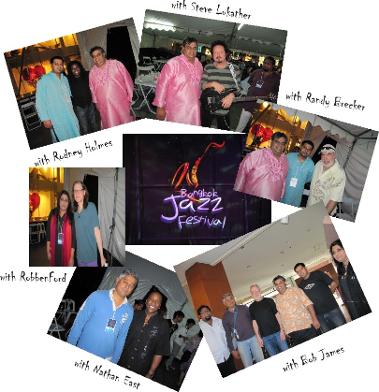 At Java Jazz 2009 where MoonArra performed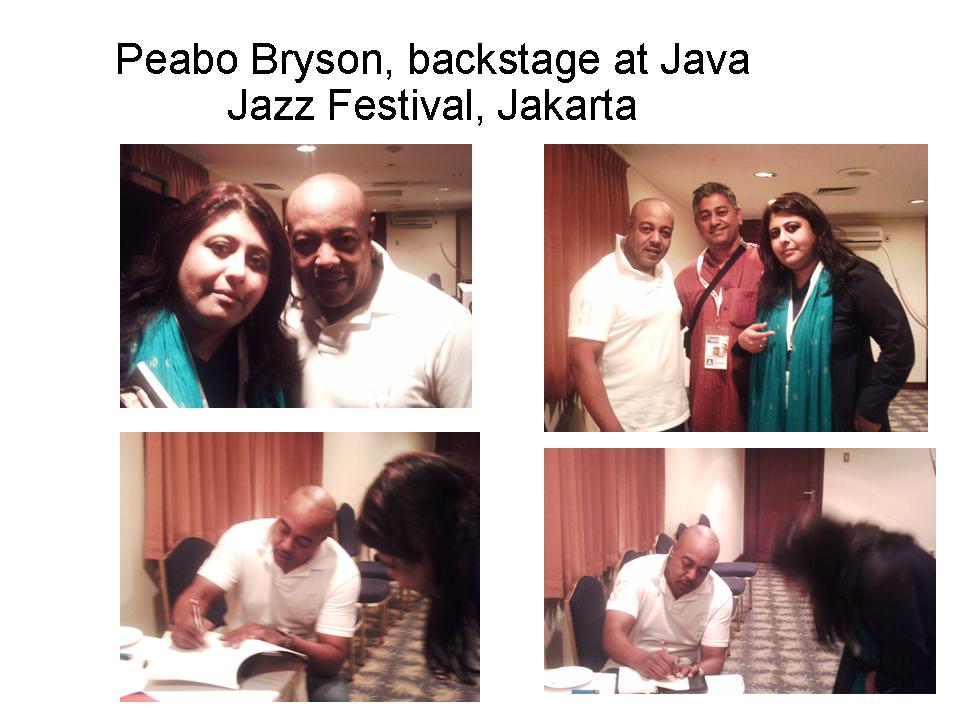 MoonArra With Lewis Pragasam's Asiabeat artists in KL 2012